As Seen in U.S. News & World Report
Prepare Today. Learn Tomorrow. Impact the Future. Prepare Today. Learn Tomorrow. Impact the Future. WHY WORK WITH GLOBAL ACADEMIC CONSULTANTS?
Global Academic Consultants (GAC) uses a 100% online platform to assist both domestic and international students with the admissions process to academic programs and institutions around the globe. We provide comprehensive services for students applying to private day schools; college preparatory, nurturing, therapeutic, and military residential schools (boarding schools); summer programs and study abroad programs; colleges and universities; and graduate and professional programs (law school, medical school, aviation school, etc.). We also assist youth and teenagers who have challenges (learning, emotional, behavioral) with placement in academic therapeutic, wilderness therapy, and inpatient psychiatric programs. Each year, colleges and universities accept fewer student applicants than the previous year, with some schools accepting less than 10 percent of applicants. This makes it increasingly difficult for students to gain acceptance to college. Additionally, traditional boarding schools have become extremely competitive, and in some regards are more difficult to gain admission to than colleges. Therefore, it is critical that students be as prepared as possible for the academic admissions process. This means that their applications must clearly define their successes, attributes, capabilities, and goals. It is no longer adequate to merely complete applications and write effective essays; the student must submit applications that effectively brand and package the student to gain the attention of admissions representatives who review thousands of applications from students that are just as accomplished as your child.
Sending your student to a school that requires an application process can be overwhelming for many parents. Choosing the best school for your child's future, and understanding admissions criteria and deadlines, can be time-consuming, confusing, and exhausting. Missing a simple deadline, or failing to submit the correct application information, can postpone your student's admission by a full academic year.
Global Academic Consultants recognizes your student's individuality and capabilities. We do not use cookie-cutter consulting methods, but instead develop an individualized plan for each student. Unlike many of our competitors, we do not have specific recruitment agreements with any institutions, nor do we receive financial compensation of any kind from the schools or programs we recommend to our students. Therefore, we are focused on presenting students with academic options that are truly the best fit for the student.
 RESIDENTIAL (BOARDING) SCHOOL
Nothing beats a boarding school education.
Advantages of attending boarding school include:
Living on campus in a supervised, family-oriented, caring, and nurturing atmosphere that fosters maturity and adjustment to living away from home
Learning from faculty who are passionate about the subjects they teach
Participating in various intramural or varsity sports and physical fitness programs, including hockey, fencing, crew, and equestrian
Experiencing a mix of academics and recreation where homework demands are juggled along with sports, extracurricular activities, and free time
Fostering life-long friendships with other like-minded students who are passionate about learning
Being exposed to a greater depth and breadth of educational material
Receiving a superior education where small classrooms (15 students on average) foster individuality and critical thinking skills
Experiencing the latest technologies, state-of-the-art libraries and media centers, and modern sports facilities
Fostering leadership skills and building connections with the world's future leaders
OUR CONSULTING SERVICES
Admissions Consulting
Today, it takes much more than completing an application and writing an effective essay to be admitted to a top school. Our consultants guide your family throughout the entire process, including standardized test and essay-writing guidance, detailed application assistance, social media evaluation, and interview preparation to prepare both parents and students for the rigors of the application process.
For those students with learning, emotional, and behavioral challenges, we use our connections in the industry to place your student in the most appropriate program or school that has the specialized resources to support your child's needs. Most of these programs and schools offer rolling admissions; therefore, our team can work quickly to accommodate an expedited transition for your student.
Concierge Services
We offer concierge services, such as traveling to families anywhere in the world to offer expedited services, personal teen life coaching for students, and comprehensive travel assistance for families when visiting school campuses.
Additional Services
We offer a range of comprehensive services to support students and parents.
We help students determine which standardized test to take, when the test should be taken, and how many times the student should take the test. We also provide detailed test-taking tips to ensure student success.
We evaluate your student's social media to ensure that their posts are appropriate and that they are projecting an image that is appealing to schools and programs.
We prepare both students and parents for the admissions interview process, including the appropriate attire to wear, how to answer questions with poise and ease, and pitfalls to avoid.
Why We Are The Best!
Prepare Today. Learn Tomorrow. Impact the Future.
Our consultants have decades of experience in successfully placing domestic and international students with their top-choice private day schools; residential (boarding) schools; wilderness and specialized programs for troubled youth and adolescents; summer camps and study abroad programs; colleges and universities; and graduate and professional schools around the globe. Our attention to detail and our dedication to providing the highest quality of personalized service make Global Academic Consultants a leader in the academic admissions process.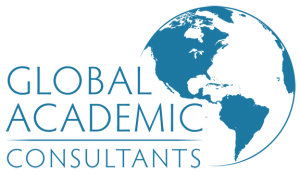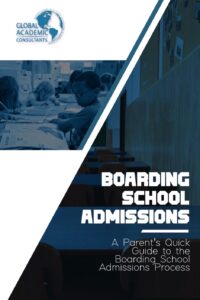 Get Your Quick Guide to Boarding School Admissions
The admissions process to boarding school can be a daunting task. This quick guide helps parents understand the various types of boarding schools, navigate application requirements and timelines, and implement effective tips for successful admission.
This easy-to-follow book is the go-to guide for all topics related to boarding school admissions.
Contact us to request your free copy!