As Seen in U.S. News & World Report
Prepare Today. Learn Tomorrow. Impact the Future. Prepare Today. Learn Tomorrow. Impact the Future. WHY HIRE US?
The application process to private day schools, boarding schools, and colleges has become extremely competitive, especially since the advent of COVID and the pandemic's global impact on the education industry. With each passing year, the application process to these programs becomes more complex and cumbersome as the schools implement new admissions requirements and criteria. In addition, some highly selective college preparatory private schools and colleges accept less than 10 percent of applicants, which makes it imperative that your student stand out amongst the thousands of other applicants who are just as accomplished as your child.
Research indicates that the application process takes the average student 100 hours to complete. Do you have the time and accurate insights about the admissions process to adequately guide your student? Did you know that missing a simple deadline, or failing to submit the correct application information, can postpone your student's admission by a full academic year?
 At Global Academic Consultants (GAC), we use a 100% online platform to assist both domestic and international students with the admissions process to academic programs and institutions around the globe. We provide comprehensive services to students applying to private day schools; all types of residential boarding schools (college preparatory, therapeutic, faith-based, sports-focused, performance arts, and military); summer programs and study abroad programs; colleges and universities; and graduate and professional programs (law school, medical school, etc.). We also assist youths who have challenges (learning, emotional, behavioral) with placement in academic therapeutic, wilderness therapy, inpatient psychiatric, and drug rehabilitation programs.  
Unlike many of our competitors, we do not have specific recruitment agreements with any schools, nor do we receive financial compensation of any kind from the schools  we recommend to our students.
Therefore, we are focused on presenting students with academic options that are truly the best fit for the student and not our bottom line.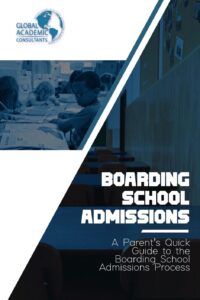 Get Your Quick Guide to Boarding School Admissions
The admissions process to boarding school can be a daunting task. This quick guide helps parents understand the various types of boarding schools, navigate application requirements and timelines, and implement effective tips for successful admission.
This easy-to-follow book is the go-to guide for all topics related to boarding school admissions.
Contact us to request your free copy!